Laser Hair Removal Treatment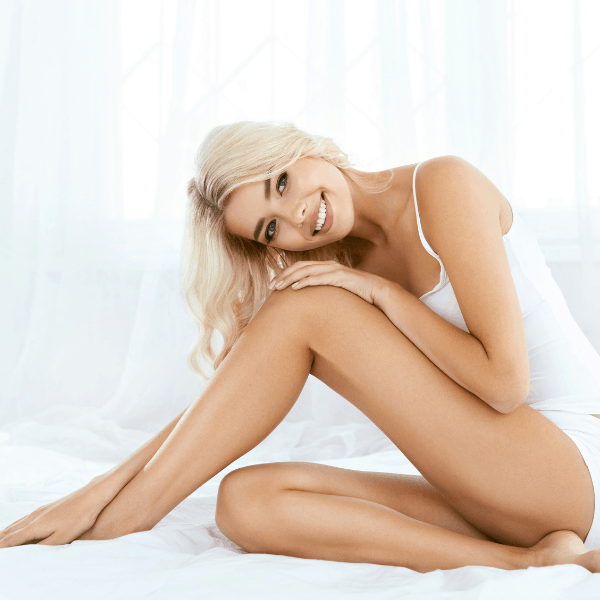 1
Face Laser Hair Removal (Upper Lip, Chin, Cheeks, Jawline, Eyebrows)
What is Laser Hair Removal?
We use near-infrared laser light pulses to halt hair growth at the follicle. The duration of each pulse is long enough to damage the follicle, without damaging the surrounding tissue, helping to stop hair growth in this chosen area.
It is necessary to undertake a course of treatments as the hair growth starts to slow down and finer hairs appear until they start disappearing all together.
Laser hair removal gives long lasting results compared to other types of hair removal such as waxing, threading and shaving.
We also offer this treatment within our private clinic, if you would like to find out more please click here.
What to expect
You must have a full consultation and a Patch Test done 48 hours before the first treatment. We do require that you shave the area 12-24 hours prior to treatment to avoid any irritation and we ask that you do not no fake tan specify in the area being treated and stay free from tanning products for 2 weeks pre and post treatment.
The treatments itself will start with talking through your medical history and discussing your expectations from the treatment. Once this is done, the practitioner will check the area and ensure there is no hair present. After prepping the area your treatment will start, this is not particularly painful experience but some areas may be more tender than others.
Becoming a model for laser hair removal treatment
At Cosmetic Courses we teach a variety of aesthetic courses to our delegates, one of which is our Level 4 qualification aimed at Level 3 beauty therapists and medical professionals. Part of the Level 4 is focused on laser hair removal treatment, for this we require models to come on our training days and be treated by our experienced delegates under the supervision and guidance of our expert trainers.
As your treatment will be a in model setting the price is significantly reduced although the quality of treatment and care remains the exact same as if you were to have it in a private clinic appointment.
What are the benefits of Laser hair removal?
Save time and money removing hair
Banish ingrown hairs, shaving rash and stubble
Reduce hair permanently
Remove hair from any part of the body
Less painful than other types of hair removal
It's precise to the area you are wanting the hair removed from
Frequently Asked Questions
Does laser hair removal hurt?
Each patient is different with their laser experiences, some say its painless and others experience a little pain. The sensation can be likened to short stings, as the treatment is performed at a fast pace discomfort is kept to minimum. At Cosmetic Courses we use the latest machinery to ensure comfort and optimum results.
How long does laser hair removal results last?
Some patients will see results from their first treatment others will need up to 6 sessions to fully see results, these will then permanently reduce hair growth but patients may be advised to come back every 6-12 months for "touch ups" to keep the consistency.
Who can have laser hair removal?
All patients will need to be over the age of 18 for this treatment. Our laser machine and therapists can cater for all skin types from Fitzpatrick 1 to 6.
Our practitioners will determine your Fitzpatrick scale by asking a few questions to decide on the best option for you.
Fitzpatrick Type 1: always burns, never tans (light, pale white)
Fitzpatrick Type 2: usually burns, tans with difficulty (white, fair)
Fitzpatrick Type 3: sometimes mild burn, gradually tans to olive (medium white, olive)
Fitzpatrick Type 4: rarely burns, tans with ease to moderate brown (olive)
Fitzpatrick Type 5: rarely burns, tans very easily (light brown)
Fitzpatrick Type 6: never burns, tans easily, deep pigment (dark brown)
How many laser hair sessions are needed?
A minimum of 6 laser hair removal sessions are required to achieve optimum results, your therapists will then discuss maintenance appointments in which you will need to return on average once a year to "top up" and keep the hair at bay!
Will I get a review after my treatment?
If you would like your treatment to be reviewed by our practitioners, this can take place 2-3 weeks post treatment, which we offer free of charge.
How long should I wait inbetween laser hair removal treatments?
Our guide is to leave 4-6 weeks between treatments. This is so your hair follicles are at the right stage in their growth cycle to achieve optimum results.
How should I prepare for my laser hair removal treatment?
12-24 hours you will need to shave the area being treated, we ask that you do not use any other types of hair removal apart from shaving inbetween treatments. It is also advised you stay out of direct sunlight and apply a high SPF between treatments to protect the area. Skin also needs to be clear of any fake tanning products before treatment.
Where can I have laser hair removal?
We offer laser hair removal on the face, underarms, arms, chest, stomach, legs, buttocks, bikini line, brazilian, back, neck, hands and feet. Our lasers are very precise and can be used all over the body.
I love being a laser hair removal model for Cosmetic Courses, all the staff and delegates are very friendly! I have seen a massive improvement on my hair already and I am looking forward to carrying on the treatment to see the final result!
I have always wanted laser hair removal but couldn't afford the prices. When I heard about being a model for it I was a little dubious as I wasn't sure it would give the results I wanted and wasn't sure how I would feel in a training environment. However I am happy to say I took the leap and booked in for treatment! Right from the first phone call I was put at ease, their quality of care and the results from treatment are amazing. I am so happy that I decided to come to Cosmetic Courses and I am so happy to be having the treatment I have always wanted! I can't stop recommending them!!
Laser Hair Removal Near Me
Laser Hair Removal in London
Our beautiful clinic in London offers our laser treatment for the whole body.
Laser Hair Removal in Buckinghamshire
We have appointments in our Buckinghamshire our state of the art clinic in Princes Risborough.
Laser Hair Removal Prices
To book your appointment we ask you contact our team on 01844 390110 / [email protected]
On your first call they will discuss treatment options and book you in for a patch test with one of our skin specialists who will determine your suitability and discuss the treatment more in detail with you.
After your consultation you can then book in for your treatments, a member of the team will assist you in doing so either at reception or by contacting us through email or phone.
Our team are always on hand to answer any questions you may have pre, post and during treatment.