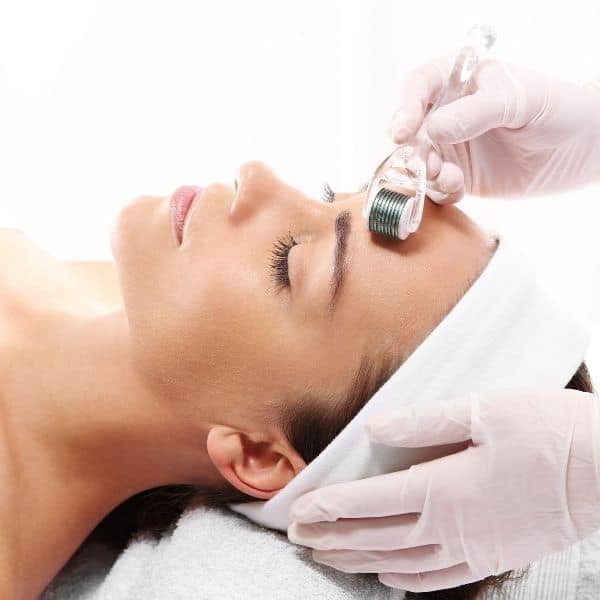 What is Microneedling?
If you suffer from fine lines, acne scarring or pigmentation then you may benefit from microneedling treatment. We offer both manual and mechanical microneedling both causing pin point bleeding. This 'trauma' causes stimulation of your natural collagen which will refresh and rejuvenate the appearance of your skin. This natural treatment can be used all over the face, the décolletage and the hands.
The Microneedling Treatment
Prior to the treatment, topical anaesthetic cream will be applied all over your face to numb the skin. This will minimise the pain post treatment. The treatment itself will take about an hour to perform and you will leave the clinic looking slightly red. The redness is said to reduce by 50% every 4 hours so by the following day most of the redness will have gone. You must also make sure that you wear your SPF 50 every day to optimise the results of the treatment and protect your skin from any sun damage. Your SPF 50 suncream is included in the price of the treatment.
Frequently Asked Questions
How long does the treatment take?
The procedure will usually take about an hour, including time for the anaesthetic cream to take effect.
Are there any side effects?
It is a very safe procedure; however possible rare side effects include, skin irritation and infection however they are not common and can be treated.
What is the aftercare for microneedling?
After the procedure you will be looking quite red and may feel very tender, therefore it is important to moisturise as much as possible and take care of your skin when in the sun. You will be given SPF 50 sun cream and also something to decrease the redness of your skin. We also strongly recommend that you avoid wearing make up for the following 24 hours, and avoid strenuous activity following the procedure.
Is microneedling painful?
Before the treatment you will have anaesthetic cream applied all over your face, which should reduce the pain during and after the procedure; however you may still feel minor discomfort during the treatment.
Am I suitable for microneedling?
It is recommended that when you are pregnant or breastfeeding you do not undertake this type of procedure. You also cannot have a microneedling if you have active acne. Your suitability for treatment will be determined when you speak to an advisor.
What product do you use?
Here at Cosmetic Courses we use Epionce chemical peel systems.
How do I book an appointment?
To book an appointment you will first need to speak to an advisor you can contact the team directly on 01844 390110 / [email protected]