In 2015 the American Society of Plastic Surgeons (ASPS) reported that more than 27,000 lip procedures took place in the U.S.  Stating a lip procedure was performed every 20 minutes, with a rise of 43% of new patients since 2000.
As one of the most googled beauty procedures, lip fillers are rising in popularity by the day. With the likes of Kylie Jenner leading a revolution in plumper pouts.
Non-surgical treatments are a big decision to make. We spoke to a new #CCmodel who recently had lip fillers in our Buckinghamshire clinic about her experience and what made her choose to have the treatment.
What made you decide to have lip fillers?
"I was quite self conscious about my top lip as when I smiled it disappeared. It seems that the recent trend is for everyone to have bigger, fuller lips following on from Kylie Jenner. This was something which drew me to the procedure- seeing how it worked on other people"
Why did you book with Cosmetic Courses for this treatment?
"I follow Cosmetic Courses on Instagram. The rapport with existing models from the Cosmetic Courses team made me feel like I was coming into a supportive community. I called to enquire about the treatment and the team were so knowledgeable I felt a lot more confident – this was a big part of it for me."
Did you have an end result in mind from your appointment?
"I wanted it to be very natural and not obvious at all. Ohla seemed to know exactly what I was talking about! She ensured me that, especially as it was the first time I was getting fillers, that it's always better to start off with less, you can then go back if you want to go bigger. They're only minimally bigger but it's made such a difference to how I feel."
Can you give us a run down of your day being a Cosmetic Courses model?
"I'd been thinking back and fourth for such a long time about having it done before actually going ahead and booking it. Before coming in I was looking in the mirror A LOT just trying to imagine the difference it might make. On the drive there I was getting a little nervous because, despite there being a really low chance of something going wrong, there's always a little worry that you might be that one person! From walking in I was made to feel very comfortable and I was given all the forms to fill out which made the whole experience  extremely professional. They took some "before" photos of me and I was then given some numbing cream for my lips.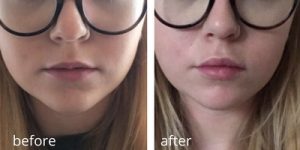 Ohla came to the reception to bring me into the treatment  room. Both the trainer and delegate asked me what I was looking for and talked openly about the amount of filler they felt was needed and in what areas.  I found it very  reassuring to hear Olha discuss the procedure with her delegate, as although this was a training day for him I also learnt a lot about the treatment and felt at ease with the in depth training happening around me.
One thing I was nervous about was the pain so I was pleasantly surprised that the numbing cream had done its  job. All I felt was a small scratch from the needle, other than that it was basically painless.
Ohla and her delegate talked through any questions I had about aftercare and I was given a sheet of things to expect. I then left and went back to reception for "after" photos and then went home to enjoy my new and improved lips!"
Would you recommend Cosmetic Courses to friends and family?
"Definitely! I know a lot of people that have thought about doing it but I think people are too scared that they'll end up with HUGE fake looking lips which just isn't the case, Cosmetic Courses give natural enhancements with your ideals in mind."
Lastly, do you have any advice for someone who is thinking of having non-surgical treatments?
"I'd say have an idea of what it is that you'd like to achieve and be honest about this to the person doing the treatment so that they can give their opinion and let you know what can realistically be done."
Thinking of lip fillers?
Our friendly team are here to help in your decision for treatment. Cosmetic Courses is the UK's leading cosmetic training provider offering high quality lip filler treatment at a third of the high street cost. As a model you will be in the capable hands of our experienced aesthetic trainers as doctors, dentists and nurses are taught the art of lip augmentation.
If you're interested in becoming a model for lip filler treatment at Cosmetic Courses then register your interest here and someone will be in touch to discuss the details with you.
https://cosmeticcourses.co.uk/wp-content/uploads/2017/09/My-lip-filler-experience.jpg
350
916
Dr Fiona Durban
https://cosmeticcourses.co.uk/wp-content/uploads/2021/02/cc_svG_logo.svg
Dr Fiona Durban
2017-09-29 13:27:41
2021-03-11 14:15:11
My Lip Filler Experience