Platelet Rich Plasma, PRP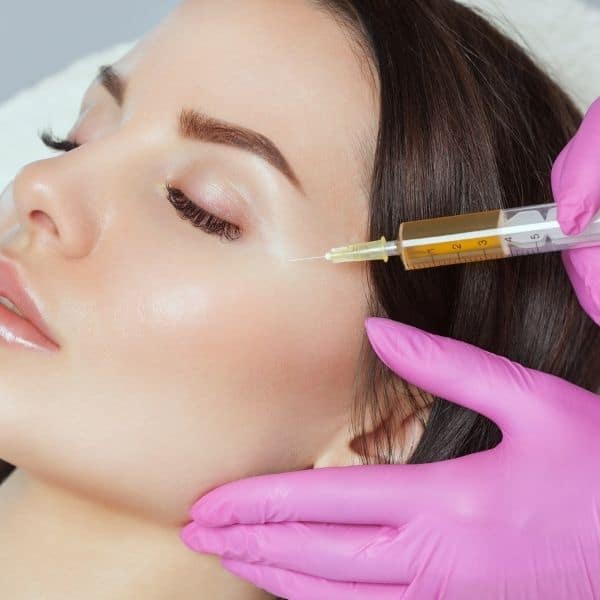 1
Smooth wrinkles and fine lines
What is Platelet Rich Plasma?
Platelet Rich Plasma Therapy (PRP) known as the vampire facial is a natural skin cell renewal treatment used to regenerate and rejuvenate the skin surface. This technique is achieved by extracting your good plasma and reintroducing it back into your face. For those wanting an anti ageing and skin resurfacing treatment without the use of products and chemicals then this is the treatment for you. It does also work well in conjunction with many of our other treatments such as dermaroller and dermal fillers.
The Treatment
The treatment takes about an hour to complete and the downtime from the vampire facial is slightly longer than for Botox and dermal fillers as there are more entry points on the face. Therefore you may experience redness, bruising and swelling but this will subside. The results from the vampire facelift are not usually seen until 4-6 weeks post treatment. This is because it takes time for your collagen to regenerate itself. Once the renewal process kicks in you will start to see that your skin is clearer and some fine lines, particularly around the eyes have started to diminish. There is also evidence to suggest this treatment is good for hair growth so you may even gain some extra long eyelashes – an added bonus!
Frequently Asked Questions
Is Platelet Rich Plasma Therapy painful?
You may experience slight discomfort during the procedure and you may feel tenderness post treatment, however it is not significantly painful.
Are Platelet Rich Plasma Therapy results permanent?
You can expect the results from Platelet Rich Plasma Therapy to last for around 4 months, therefore it's recommended that in order to maintain the youthful appearance you return and have the procedure routinely.
Are there any side effects?
You may experience swelling or redness and occasionally bruising. There is also a possibility that you may have tenderness and pain on the injection sites however these side effects are only temporary.
How do I book an appointment?
To book an appointment you will first need to speak to an advisor you can contact the team directly on 01844 390110 / [email protected].
Can I have PRP treatment for hair loss?
Yes, we offer this treatment for hair loss treatment. Please contact our team on 01844 390110 / [email protected] to discuss your treatment options.