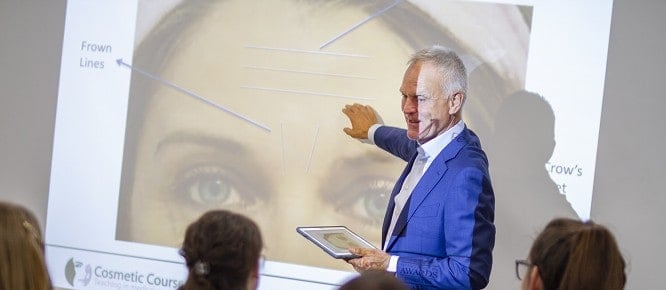 Are you a doctor searching for the right Botox Courses? Our range of Botox and Dermal Filler courses are designed to give you qualifications in non-surgical treatments while providing you with the skills and confidence to succeed.
Why Doctors Should Train in Aesthetics & Botox
Many doctors are feeling the frustrations of working in the NHS, bound by strict regulations and an inability to change what they'd like to. The aesthetics industry opens the door for doctors to gain back control over their careers while providing a higher standard of care. It's a thriving, highly profitable industry which is growing. In fact, 90% of UK cosmetic treatments are non-surgical.
As an established training provider for over 16 years, we've supported thousands of people to build careers in the world of medical aesthetics. We help doctors to develop successful businesses, working at reduced hours on a higher income.
The Shift Between Surgical to Non-Surgical Treatments
Medical training puts doctors and physicians in good stead for understanding aesthetics, already having an in-depth knowledge of aspects such as facial anatomy and injection techniques. Many of our trainers were (and still are) GPs, using our training to expand their clinics and the services they provide.
The Benefits of Training in Aesthetics
Medical aesthetics is one of the most flexible sectors to train in, giving you greater control over the hours you work and experience you can offer to your patients. It's the chance to become your own boss, develop a successful business, enjoy fewer regulations and provide the care you want to give. As a continually evolving industry in high demand, the income potential is enormous.
Where to Start – What Botox Courses for Doctors We Offer
Our Botox training for doctors is CPD certified and recognised by all leading insurance providers. However, where do you start? While we have a wide range of courses to consider, most doctors begin with one of the following two courses.
Foundation Botox and Dermal Filler Training
This one-day Botox course for doctors has been designed to introduce you to Botox and Dermal Fillers. It covers the theoretical, practical and business skills you'll need to kickstart a career in aesthetics.
Level 7 Certificate in Injectables for Aesthetic Medicine
Our Level 7 injectables course is an excellent choice for those looking for a long-term investment in medical aesthetics, covering in-depth Botox and Dermal Filler training. This comprehensive course is Ofqual regulated.
Why Choose Cosmetic Courses?
• We tailor our courses specifically around the needs of medical professionals so that you can take full advantage of the benefits available.
• Our Botox training courses for doctors are led by Dr Adrian Richards, a world-renowned plastic surgeon.
• At present, we're the largest and longest-running Botox training course provider in the UK.
• We cater to a range of learning styles during our Dermal Filler and Botox courses, including interactive training, hands-on experience and online learning opportunities.
• Receive continued advice and mentorship after your training, whether business or clinical based.
Book Your Botox Course for Doctors Now
If you're interested in our Botox Courses for Doctors, call now on 01844 390110 to find out more.
https://cosmeticcourses.co.uk/wp-content/uploads/2019/08/Botox-training-for-doctors.jpg
290
666
Mr Adrian Richards
https://cosmeticcourses.co.uk/wp-content/uploads/2021/02/cc_svG_logo.svg
Mr Adrian Richards
2019-08-27 13:03:56
2021-06-28 11:56:36
Botox Courses for Doctors