At Cosmetic Courses we love hearing from previous delegates and seeing how far they have come since training with us. We caught up with Dr Jake Sloane who we trained in 2008 to see where he is now and what advice he has for those starting out in the industry!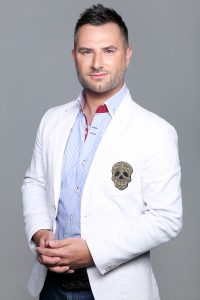 Dr Jake started his career in a number of surgical specialities including colorectal, upper gastrointestinal, vascular and trauma surgery. He now specialises in cosmetic medicine full time. 
Jake first qualified in cosmetic injectable treatments in 2008 and has attended numerous training courses led by some of the world's leading plastic surgeons, doctors and aesthetic trainers. After his initial training with us Jake went on to set up a cosmetic injectables service in 2009 and quickly became known for his innovative style and outstanding results.
In 2015 Dr Jake moved to Sydney and since then has built a huge and loyal clientele across the city and beyond. He regularly sees interstate clients and is now sought out by celebrities who need ultra-subtle work carried out. As a result of Dr Jake's growing reputation, he also attends closed-door events to be taught by one of the world's leading cosmetic doctor, the Brazilian plastic surgeon Dr Mauricio De Maio, leading to Jake to create his signature 'Liquid Face Lift'.
What made you decide you wanted to get into aesthetics?
"I had always wanted to be a general (not a plastic) surgeon and at first glance cosmetic work doesn't seem related. But surgeons are practical-minded people, we like being hands-on and getting quick results! Facial aesthetics was an attractive proposition to me because I could treat people outside the chaos of the hospital-setting whilst utilisiling my anatomy and practical skills. I won't lie, as a hard-working junior doctor, I also found it very attractive to be able to supplement my income and it helped me save much quicker for my wife's engagement ring way back in 2010!"
Why did you choose Cosmetic Courses?
"Back in 2008, there was a much smaller choice of courses available. I'm amazed today how available (and variable!) they are. I was drawn to being taught by a plastic surgeon, not because of the stereotype but because I felt Adrian would have a better aesthetic 'eye' as well as the hands on experience.
I was also drawn to learning about both basic fillers and toxins with one provider, I thought that was good value at the time. However I appreciate training has been developed and specialised now which is a much more sensible way of learning about the techniques in retrospect."
What were your first steps after completing training with us?
"I ran home and injected my mum!! In all seriousness, I lined up a few trusted family and friends soon after the course because I felt my practical skills and confidence needed to be developed over a period of time. Looking back on it, I wasn't at all prepared at all to run my own aesthetics business as I was in the first year of being a VERY busy doctor.
In the beginning things were very slow and I desperately messaged and Facebooked anyone who would listen to me! I only saw one or two people a month and it dawned on me that the business side of things was what I really needed to work on."
Where are you now?
"I juggled surgical training alongside facial aesthetics for 7 years before things got seriously difficult working in the NHS. In the end, I was extremely fortunate to be selected in a competitive process for a surgical registrar position in one of Australia's most prestigious hospitals – Royal Prince Alfred Hospital in Sydney. I worked there for two years but for a multitude of reasons (and having my baby daughter) I walked away from hospital life to finally focus solely on cosmetic medicine.
In Australia, we have a number of clinic chains – they provide laser hair removal, skin treatments but the biggest business is in cosmetic injectables. It is a huge market and I joined Laser Clinics Australia (LCA), the biggest entity of its kind world-wide as a cosmetic doctor last year. I also see my own patients privately outside of LCA so that I can develop my skills which are not offered there such as thread lifts and non-surgical blepharoplasties."
What are your plans for the future?
"Having stepped away from hospital medicine, I've decided that there shouldn't be any barriers whatsoever to my ambitions! It's really nice that I've quickly become well respected for my work in Sydney and have started to see some celebrities and interstate clients who fly to see me. If given the opportunity, I would like to become a trainer and to work closely with Allergan to become a Key Opinion leader.
For those of you who may not have come across Dr Mauricio De Maio's work and the 'MD codes', I would urge you to do so."
What advice would you give to those starting out in aesthetics?
"For those totally new to aesthetics, it might sound silly but the injecting is the easy part. It's the business side of things that 99% of people will struggle with. Doctors are notoriously terrible at managing themselves, their diaries and often quite tunnel-visioned about how the world works!
Before you book for a course, I'd strongly map out on a piece of paper a list of specific questions and answer them before doing the course. Consider things like:
Where are you going to work/be employed?
Write out a business plan. This could be as simple as having an intended net profit and listing your known expenses. This way you can see how many patients you'll need to see in a year to get yourself there. So make it simple and attainable!
Ask yourself, how much time can I really dedicate to injecting? (many people juggle aesthetics with their 'real' job)
Be brutally honest with yourself, are you doing it for the perceived easy money or do you truly have a passion for injectables? I've seen a huge number of people train only to drop out or lose their path because they had no plan or real desire to be an excellent injector.
Find out where will you will buy your stock, sundries and insurance – you'll need to have enough money to buy an initial volume of stock which often scares people. Don't fret, it will usually keep for two years and doesn't need to be used straight away.
Pick one main conference a year and go, network, meet like minded professionals and see what's new
Pick one or two reputable brands (Allergan, Galderma, Merz, etc) and stick to them."
Aesthetic Training with Cosmetic Courses
Are you thinking about getting into aesthetics? Our one day Foundation Botox and Dermal Filler Training course is your starting point for a career in medical aesthetics.
Whether you are looking for personal development or more from your professional life, our award-winning Botox and Dermal Filler Training Course will provide you with essential practical skills and business knowledge to kick-start your aesthetic career. The Foundation Course is also part 1 of the full Level 7 Qualification in Injectables if you choose to go down this route.
Speak to one of our friendly advisors today to make your next step: 01844 390110 / [email protected]
https://cosmeticcourses.co.uk/wp-content/uploads/2018/02/jake-sloane-1.jpg
350
916
Mr Adrian Richards
https://cosmeticcourses.co.uk/wp-content/uploads/2021/02/cc_svG_logo.svg
Mr Adrian Richards
2018-02-23 15:53:17
2021-03-08 11:29:41
Success Story: An Interview with Dr Jake Sloane