As we make our way into Spring, we have decided to do a bit of spring cleaning and introduce a new PRP system to our training clinic.
Out with the old and in with the new they say! 
We have replaced our older and larger centrifuge machine with the new Cellenis Portable PRP machine.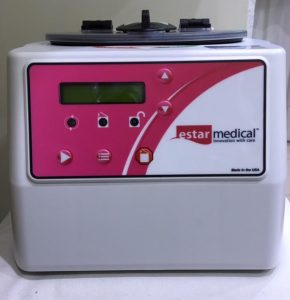 The compact machine (weighing 5kgs) is easy to move around. With an automatic lid-locking system it makes a great travel buddy for those of you who are mobile aesthetic practitioners.
To purchase a portable centrifuge from us then please contact the team on 01844 390110 or email us directly at [email protected].
Cellenis have also introduced a simple and efficient PRP preparation system with outstanding results.
5 Simple Steps
This new preparation system follows five simple steps down from the previous 6:
Blood is drawn from the patient
Blood drawn tubes are then inserted into the Centrifuge (10 minutes)
Remove % of PPP (platelet-poor plasma)
Gently inverted 10 x to re-suspend the platelets
Withdraw the PRP (platelet-rich plasma)
This ground breaking new system has plenty of perks, one of which being that it now operates a closed system meaning a more sterile and faster process.
What is Platelet Rich Plasma Therapy?
Platelet Rich Plasma Therapy is a treatment that rejuvenates the skin resulting in a fresher, brighter appearance.
The treatment uses the bodies own growth factors to promote healthier younger skin. Using the Cellenis system, blood is drawn from the patient then spun in the centrifuge which separates the platelet-poor plasma and platelet-rich plasma.
The clear plasma is re-injected back into the skin which stimulates soft tissue rejuvenation.
Platelet rich plasma therapy is suitable for all skin types and recovery time is little to none providing long lasting results.
Why is it so popular as an aesthetic treatment?
PRP has been around for many years and begun its life in the 1970's with its first use in Italy (1987) were it was used for open heart surgery. It's popularity rose with the discovery of its medical benefits in the mid-1990s. Since then it has been used in a variety of medical fields from cosmetic surgery, dentistry, sports therapy and pain relief.
A favourite with patients because of it's natural process, using their own blood to produce healthier skin. The treatment has also become a must have to the stars with Kim Kardashian leading the way in this extraordinary treatment.
Platelet Rich Plasma Training at Cosmetic Courses
At Cosmetic Courses we offer PRP training to our delegates in a comprehensive day long course. The day itself covers skin anatomy, the Cellenis products and practical hands-on experience on live models provided by us. On completion of your training you will receive a certificate to start practicing this advanced skin treatment. You are also able to purchase a centrifuge and preparation kits directly from us allowing you to get started as soon as you leave!
This is  a great treatment to add to your portfolio with an array of benefits for yourself, your patients and your clinic.
Available Course Dates for PRP:
6th April 2017 | Buckinghamshire – Book Now
29th June 2017 | Buckinghamshire – Book Now
For more information on Platelet Rich Plasma and the new Cellenis Centrifuge please contact the team on 01844 390110 or email us at [email protected]
https://cosmeticcourses.co.uk/wp-content/uploads/2017/03/Portable-Centrifuge-Machine-Lands-at-Cosmetic-Courses.jpg
350
916
Dr Fiona Durban
https://cosmeticcourses.co.uk/wp-content/uploads/2021/02/cc_svG_logo.svg
Dr Fiona Durban
2017-03-30 11:14:06
2021-03-11 14:18:52
Portable Centrifuge Machine Lands at Cosmetic Courses