We're absolutely delighted to be able to share our good news. On Saturday night, Cosmetic Courses was awarded 'Best Training Programme' at this year's MyFaceMyBody Awards!
We've a very excited (if a little tired) team this morning, after a fantastic weekend spent celebrating. There's a definite buzz in the air at CC HQ!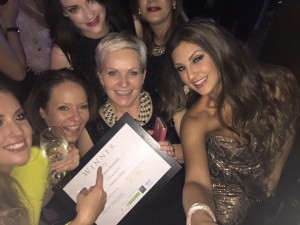 The awards night is always great fun, but the highlight this year – even more than seeing hairdressing legend Nicky Clarke in the flesh – was the moment we found out we'd won.
You might have heard the whoops and cheers from where you were.
We were eventually chosen from a shortlist of 9 great finalists, all of whom had great entries. So our team is completely honoured to have won.
A huge thank you to the MyFaceMyBody team, all our delegates, models, colleagues and friends. We couldn't have done it without you!

About The 'Best Training Programme' Award
Our award was judged by a panel of industry professionals and peers, who made their final decision based on the following criteria:
Does the training programme effectively demonstrate advancements in the knowledge base of aesthetic medical professionals?
Does it engage with delegates and is it well received?
Does it demonstrate a breadth of knowledge in the subject being taught?
How much time is allocated to practical hands-on assessment?
What support is offered after training – for example e-learning, videos or mentoring?
Is there a wide range of training workshops within Aesthetics?
About MyFaceMyBody
The prestigious MyFaceMyBody Awards is the only consumer awards dedicated to the cosmetic, aesthetic and dental industry to recognise and reward brands for their product innovation and popularity. 
Clinics were also rewarded for exceptional experiences and outstanding service to their consumers. The awards were attended by 400 leading industry professionals, brands, journalists and celebrities.
Other big winners included our product partner NeoStrata, who won Best Cosmeceutical Range with their Skin Active line, as well as Best Anti-Ageing Product with their Triple Firming Neck Cream. Congratulations to them and all the other worthy winners on the night.
A massive thank you for all your support this year. We do what we do because we love it, but being recognised by our valued colleagues and friends makes it even better. Roll on next year!
0
0
Mr Adrian Richards
https://cosmeticcourses.co.uk/wp-content/uploads/2021/02/cc_svG_logo.svg
Mr Adrian Richards
2015-11-09 17:29:57
2021-03-11 14:58:09
We won Best Training Programme at MyFaceMyBody Awards!