2018 Love Island contestant Alexandra Cane has made the headlines recently over her invasive skin treatment. Many of her 1.2M Instagram followers were shocked when she took to her Instagram stories to reveal the recovery process of the invasive procedure showing a red and "scabby" face. The reality star had chosen to undergo a Co2 Laser Facial after years of Impetigo, which had left scarring on her face.
Alexandra did not hide what she had done but instead decided to take her followers along with her throughout the process so they could understand why she had the procedure, what the procedure is and the downtime that comes with it along with the fantastic results at the end.
During mid recovery she said "This is the current state of my skin, it looks quite bloody. It's starting to scab over now but all is good according to my consultant. Hopefully in a few days all of this scabbing should start peeling off. The sorest part is my eyes, but the rest of my skin feels pretty good" adding "This is how my skin is meant to look at the moment, please don't worry, all is fine."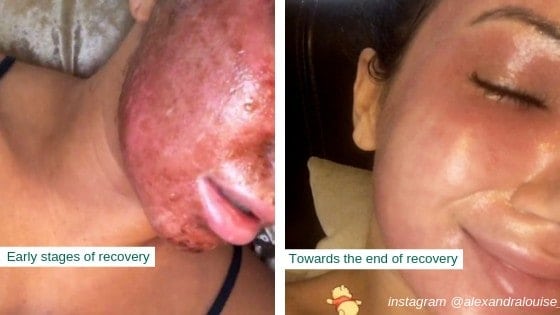 So, what is the Co2 Laser Facial?
Co2 Laser Facial is an advanced, results driven skin rejuvenation treatment which treats skin problems such as fine lines, pigmentation and acne scarring through laser resurfacing.
The laser beams target the problem area causing trauma to the skin which stimulates the body's own healing process in turn producing a natural source of collagen resulting in refreshed, glowing skin. With the problems areas minimised if not completely eradicated. A topical numbing cream is applied to the area of treatment and once the skin is numbed the lasers use beams of thermal energy to penetrate deep into the skin treating skin conditions which over the counter creams can't.
The treatment costs around £3000 to receive and should only be administered by a trained professional due to its intensity along with the prolonged aftercare requirements.
Other alternatives to laser resurfacing?
As the laser treatment carries quite a big price tag there are alternative less invasive treatments which patients may prefer:
Chemical Skin Peel – A chemical skin peel is a clinical grade skin rejuvenating treatment used to target a number of skin conditions such as black head removal, oil congestion, dry, flaky skin, dull, dehydrated skin & pigmentation
If you just want a rejuvenating and anti-ageing effect then this will be a perfect treatment. The Neostrata skin peel works by penetrating into the epidermis reaching a deeper point than any home skincare products. This coupled with the microdermabrasion treatment unblocks pores leaving you with immediately clearer and brighter skin.
Cosmetic Courses price for treatment: £70 per treatment
Microneedling – If you suffer from fine lines, acne scarring or pigmentation then you may benefit from a Microneedling treatment. Using tiny needles on a roller or an electronic device over the skin causing pin point bleeding is creating on the skin. This 'trauma' causes stimulation of your natural collagen which will refresh and rejuvenate the appearance of your skin. Again patients will experience best results with a course of treatment and skincare.
Cosmetic Courses price for treatment: starting from £125 per treatment
To view more of our skin treatment alternatives click here or speak to member of the team today to see what we can do to improve your skin on 01844 390110 or [email protected]
Cosmetic Courses has been training medical professionals in the UK since 2002. As one of the longest-established providers we pride ourselves on the quality of our training and the products we use for treatment. This means that you are receiving the safest possible treatment as a model with us. The added bonus is that the treatment with us is a fraction of the high street cost.
https://cosmeticcourses.co.uk/wp-content/uploads/2019/01/What-happened-to-Alex-from-Love-Islands-face_.jpg
350
915
Melanie Recchia
https://cosmeticcourses.co.uk/wp-content/uploads/2021/02/cc_svG_logo.svg
Melanie Recchia
2019-01-09 16:59:24
2021-03-11 12:28:47
What happened to Alexandra Cane from Love Islands face?