We recently held a poll on our Instagram asking our followers what skin rejuvenation treatments they preferred out of the following options:
Polynucleotides
Bio-stimulators
Skin Boosters / PRP
Intravenous Nutrition Therapy
Poll Results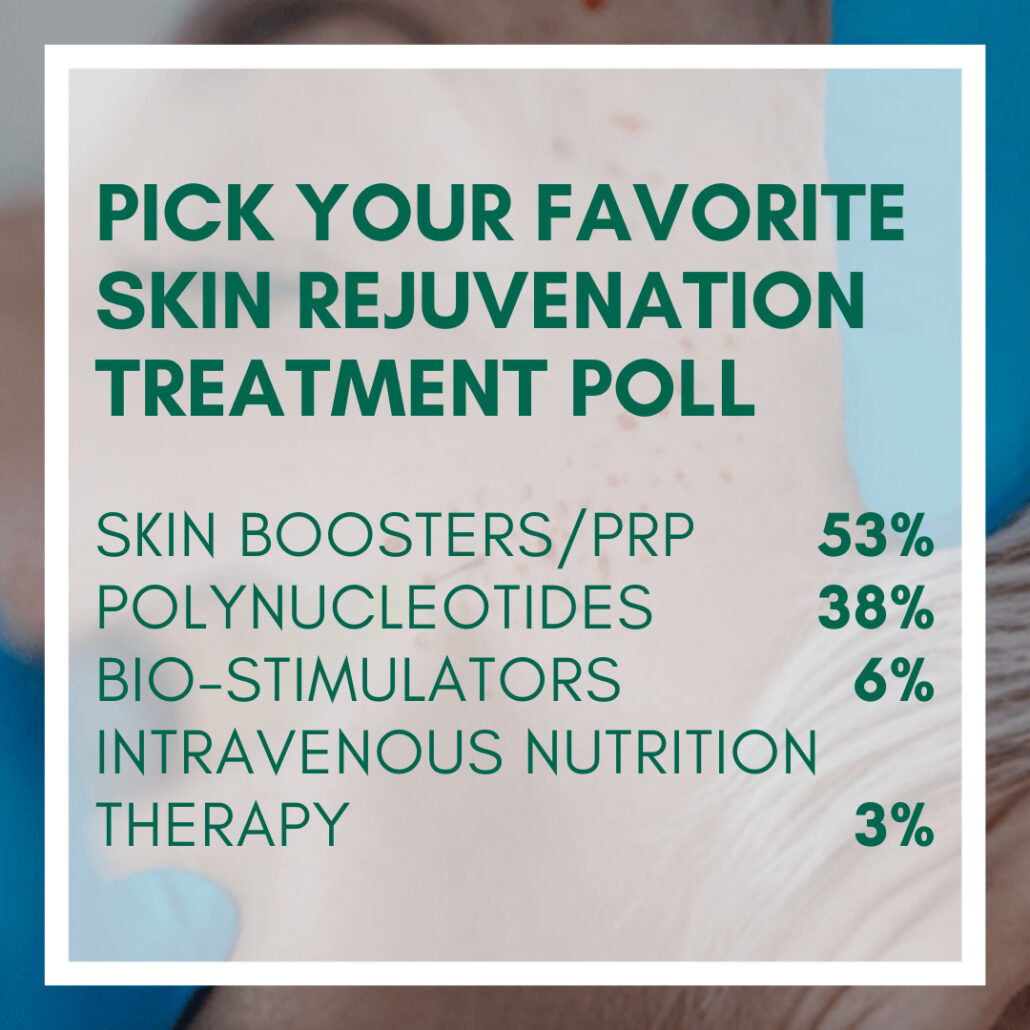 It's no surprise that Skin Boosters and Platelet Rich Plasma were the most popular treatments in the Skin Rejuvenation Poll with Polynucleotides not far behind.
Polynucleotides
Due to the high interest from our poll, we will be introducing a training course in Mastelli's Polynucleotides. Polynucleotides are natural, highly purified DNA molecules that are injected into the skin to repair tissue and boost skin quality.
Coming to Cosmetic Courses on 14/12/23. Click here to book your space.
Skin Boosters
We offer medical professionals the latest approach to injectable skincare with our Skin Booster Training Course. This training course will cover three different types of skin boosters including Profhilo, Definisse Hydrobooster, and Redensity.
Profhilo is a well-known, revolutionary injectable treatment used for skin rejuvenation and hydration.
Definisse Hydrobooster combines the established clinical benefits of hyaluronic acid and glycerol to improve skin hydration, skin tone, and elasticity.
Redensity 1 is an injectable treatment designed to improve skin quality, hydration, and overall appearance.
We provide you with live model patients for the practical element of the training course to maximise your learning experience. You will learn proper aseptic techniques, potential contraindications, and how to minimise risks and post-treatment care. Having live model patients will give you experience in dealing with patients whilst treating them and knowing the correct product selection.
View upcoming Skin Booster Training Course dates by clicking here.
Platelet Rich Plasma
Platelet Rich Plasma (PRP) is one of our most popular training courses. Our Platelet Rich Plasma Training Course will teach you about this innovative approach in using our body's growth factors in order for the skin to repair and rejuvenate itself for skin rejuvenation and hair loss.
This treatment is an excellent add-on to your aesthetic clinic as there is very little downtime, long-lasting results, and PRP can be used to complement other aesthetic procedures such as dermal fillers.
View upcoming Skin Booster Training Course dates by clicking here.
Platelet Rich Plasma for Hair Rejuvenation Training Online Course
Our Online Course on PRP for Hair Rejuvenation contains key information and demonstrational videos covering the background of PRP in aesthetic medicine, growth factors in the human body and a demonstration video of PRP for Hair Rejuvenation by our expert trainer Sinead. This is a great course for overseas delegates looking to learn about this innovative approach to skin and hair rejuvenation.
View our Platelet Rich Plasma for Hair Rejuvenation Training Online Course by clicking here.
Find out more about Cosmetic Courses
Follow us on our Instagram at @cosmeticcourses so you don't miss out on our upcoming polls.
https://cosmeticcourses.co.uk/wp-content/uploads/2023/11/Skin-Rejuvenation-Poll.png
200
600
Mr Adrian Richards
https://cosmeticcourses.co.uk/wp-content/uploads/2021/02/cc_svG_logo.svg
Mr Adrian Richards
2023-11-02 16:10:24
2023-11-03 10:56:26
Skin Rejuvenation Poll