We are excited to announce that we have launched a brand new skincare line exclusive to Cosmetic Courses available for our models to purchase and delegates to stock within their own clinics!
At Cosmetic Courses we have always been passionate about skincare we believe that a good skincare routine combined with aesthetic "tweakments" can change your life, we have also proven that incorporating results driven products into your routine after aesthetic procedures can help elongate results.
 The EYN Range
EYN skincare has been specifically developed to maintain good skin health on a daily basis. The EYN range targets each layer of the skin to thoroughly hydrate and repair, targeting ageing. Providing affordable clinically proven products that work together to achieve brighter and healthier skin.
As we age we lose moisture and elasticity in our skin which causes wrinkles and other signs of ageing to appear. EYN skincare range re-hydrates skin with a series of clinically proven ingredients. It includes lightweight non-oily hydrators and skin revitalising serums to stimulate collagen and elastin, whilst helping skin to repair and renew more rapidly.
The range has been developed with your daily skin health needs in mind and will help refine prose and minimise fine lines and wrinkles as well as address any pigmentation issues.
The Products: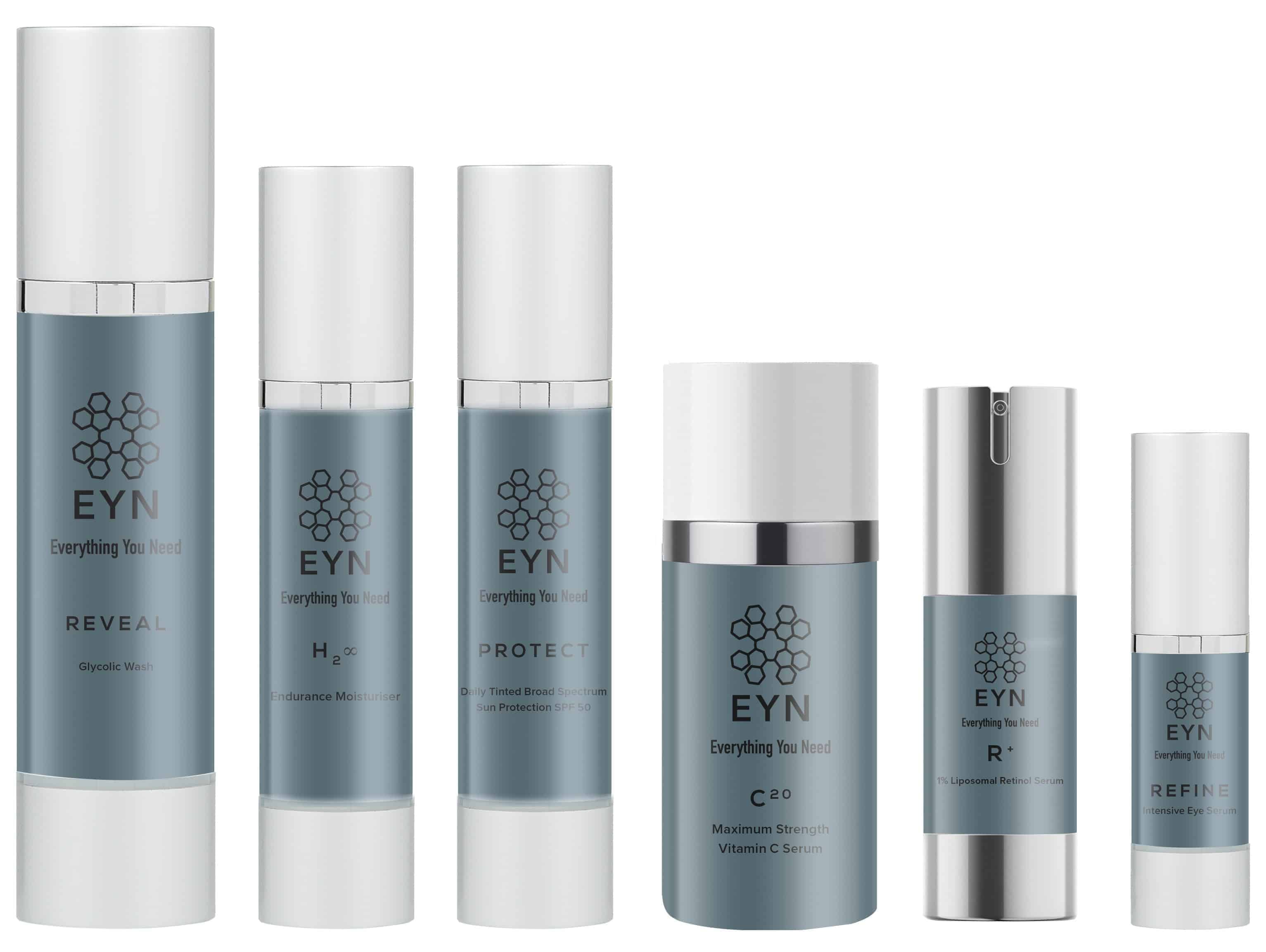 H2∞: Endurance Moisturiser

This luxury silky moisturiser contains clinically proven ingredients to keep your skin optimally hydrated and in peak condition. H2∞ contains tripeptide-1 and tetrapeptide 7, biomimetic peptides to help stimulate growth factors and collagen synthesis, to protect and help restore the skin's natural moisture barrier and suppress inflammation. Natural tara seed extract works deep within the skin to boost moisture levels and help prevent future dehydration. It's also high in vitamin C and B. Apply to clean skin on face and neck as required.
Reveal: Glycolic Wash
Contains the natural clinically proven AHAs, glycolic and citric acid to gently remove the build-up of dead skin cells together with salicylic acid to remove impurities and excess oil. This combination will cleanse the skin and increase cell turnover revealing new younger looking cells while preparing the skin for the further application of recommended daily care. Massage one pump onto dry skin. Leave on the skin for a few minutes to get to work before rinsing with warm water and patting dry. Do not use as an eye make-up remover. Can be used once or twice daily.
Protect SPF 50: Daily Tinted Broad Spectrum Sun Protection
A highly effective photo-stable broad spectrum, lightweight physical sunscreen, containing a combination of clinically proven filters to protect the skin against the harmful effects of UV rays. It is water resistant and contains clinically proven AHAs, citric and lactic acid to gently increase cell turnover. It is light and easily absorbed with a natural tint to give an even appearance while having a hydrating effect on the skin and protecting the DNA.
R+: 1% Liposomal Retinol Serum
A powerful and highly effective serum containing one per cent liposomal retinol, a stabilised vitamin A derivative which has been clinically proven to increase cell turnover. R+ will reduce pore size, resulting in firmer younger looking skin as well as reduce visible signs of ageing including pigmentation and uneven skin tone. Apply to clean skin at night. Use as directed. It is also important to use SPF 50 sunscreen, as retinol increases the skin's sensitivity to sun exposure. For external use only.
c20: Maximum Strength Vitamin C Serum 
Clinically proven L-ascorbic acid at its peak concentration of anti-oxide the activity which is quickly absorbed to remove free radicals preventing skin damage, helping to brighten skin & maintain a youthful appearance. The formulation is supported with ferulic acid to create this light effective day cream.
REFINE: Intensive Eye Serum
Refine is an intensive eye serum which actively works to rejuvenate and repair the signs of ageing. Containing a unique blend of ingredients including vitamin E to hydrate, almond oil to repair and protect against the signs of ageing & lactic acid which has gentle resurfacing properties to diminish the appearance of crows feet & visibly improve clarity & tone.
To find out more & purchase your products please contact the team on 01844 390110 / [email protected] or pop into either our Buckinghamshire or London City clinic.
@cosmeticcourses #EYN
https://cosmeticcourses.co.uk/wp-content/uploads/2019/03/eyn.jpg
350
915
Mr Adrian Richards
https://cosmeticcourses.co.uk/wp-content/uploads/2021/02/cc_svG_logo.svg
Mr Adrian Richards
2019-03-12 13:57:03
2021-03-11 12:27:39
New Product Range: EYN – Everything You Need