Latest developments in facial rejuvenation surgery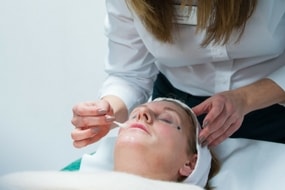 Non-surgical skin treatments and surgical facial procedures often go hand-in-hand. The former, if begun early enough, can be a preventative to ward off the necessity for the latter until much later. Or, they can be used to compliment each other: there is little point a patient saving up and spending their hard-earned savings on that facelift only to reverse the effects by failing to pamper their skin.
Recent figures have shown a 50% increase in the number of people undergoing facial rejuvenation procedures during the last year. Why are more people considering these forms of treatment? Many people tell Cosmetic Courses' founding Surgeon, Mr Adrian Richards, that they don't like having their photograph taken and feel as if they would like to look fresher and less tired. Patients often tell him that they believe their face looks far older than they feel.
In the UK, most patients considering any form of treatment want to look as natural as possible. Treatments can realistically make you look as you did 8-10 years ago.
To achieve a natural fresh appearance it is important to address each of the following: The skin, active wrinkles caused by muscle contractions and gravity changes. For some people dramatic improvements can be achieved with skin treatments which involve minimal downtime and cost.
Skin treatments alone can make you look much fresher and brighter. These treatments may consist of Microdermabrasion, Genuine Dermaroller Therapy, or perhaps a light chemical peel. These all work in different ways to removes fine wrinkles, reduce pore size or cause mild skin contraction. Combined, they are highly effective to make the skin look fresher and more youthful.
Active wrinkles caused by muscle contraction are typically found between the eyebrows (frown lines), on the forehead and below the temple (crows feet). As these lines are caused by muscle contraction they are best treated by selectively reducing the overactive muscle activity in these areas. This best performed with small injections of botulinum toxin or dermal fillers into specific muscles.
Gravity changes include descent of the cheek region which causes deepening of the lines which come down from the nose to corner of the mouth. Other changes include loss of the jaw line and jowl formation. The neck skin can also loosen and the sharp angle between the neck and chin is lost.
Gravity changes are best treated with Surgery as the muscle layers of the face need to be repositioned in their previous position. In the forties and early fifties it is often best to have a Mini-face lift (MACS-lift). This elevates the cheek, jowl and neck regions and restores a more youthful face shape.
Most people in their mid to late fifties or older are more suited to more traditional face lift techniques (SMAS-lifts).
These techniques specifically tighten the neck and jowl regions.
Cosmetic Courses offer a Professional Development Section in conjunction with our sister company, Aurora Clinics. This aims to provide support and information about Surgical procedures to enhance the non-surgical training which you can gain with Cosmetic Courses.
0
0
Dr Olha Vorodyukhina
https://cosmeticcourses.co.uk/wp-content/uploads/2021/02/cc_svG_logo.svg
Dr Olha Vorodyukhina
2011-08-04 11:21:55
2021-06-29 08:30:34
Facial Rejuvenation: Complimentary Surgical & Non-surgical Approaches