Every cosmetic procedure carries their own myths. Here we address the ones found with lip filler treatments, also known as lip augmentation.
"People will know I have had lip fillers"
It's easy to search "celebrity lip fillers" and be bombarded with an array of over-injected stars. Enough to want to make you stay away from a needle. The truth behind the pictures is that dermal fillers can look natural (some people just prefer it not to). With ease, a trained medical practitioner can give a subtle hint of volume and shape to your lips, producing the desired outcome.
We advise you to have an understanding of what you want to achieve from the treatment. Listen to your practitioners advice (they do know best after all!).
Most importantly, work with the face you have. There is no point turning up to an appointment thinking you will be coming out as Angelina Jolie. You will come out as you just with better lips!
[twenty20 img1="18863″ img2="18864″ width="400px" offset="0.5″]
"A foreign substance is being injected into my face"
This is not the case. There are many brands out there used for dermal fillers, all promising to give a fuller look. Look for the brands containing Hyaluronic Acid. A natural substance found in our bodies. The injections containing this simply reintroduce it into our bodies. This stimulates our natural hyaluronic acid to work hard in providing a fuller, plumper look.
At Cosmetic Courses we work with Juvederm. A leader in the dermal filler market. Their fillers contain no unnatural substances, just a big old dose of a synthetic version of our bodies own hyaluronic acid.
"Only people with thin lips get fillers"
The most common use for lip fillers is to plump out thinner lips. Although they can do much more than that. Fillers can contour your mouth, define a cupids bow, hydrate dry lips & add symmetry to your face. The possibilities are endless…
"I'm too young/old for fillers"
Fillers are known for the anti-ageing qualities. The hyaluronic acid triggers collagen in the skin to rejuvenate the chosen areas. As well as this it's also enhancing the area, adding volume.
Many celebrities of all ages use fillers as part of their beauty regime. From Jennifer Aniston preventing ageing to the infamous Kylie Jenner lips.
"My lips will feel strange afterwards"
Another popular lip filler myth. Apart from the swelling after your treatment (which can last up to a day). Your lips will feel back to normal. Some patients even forget they have had their lips done unless they look in a mirror!
"When the filler wears off will my lips be even smaller than before?"
Filler top ups can be done after the previous treatment has dissolved. You can stop having lip fillers completely without any side effects. Your lips will return to their natural size, they won't be smaller than when you first started having treatment. The hyaluronic acid introduced by the injection will dissolve slowly over time leaving you with your natural lips.
"Lip fillers are irreversible"
As long as you have hyaluronic acid based dermal fillers, the effects will not be permanent. As discussed above, your body naturally breaks down the filler over time. Along with this, if you are unhappy with your results there is always the possibility to instantly dissolve the filler using a substance called Hyalase. This is almost always unnecessary but gives you the peace of mind that there is an option to reverse the filler if required.
Lip Fillers at Cosmetic Courses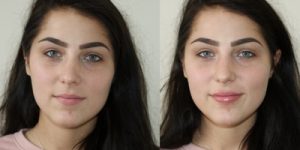 Cosmetic Courses is the UK's leading cosmetic training provider offering high quality lip fillertreatment at a third of the high street cost. As a model you will be in the capable hands of our experienced aesthetic trainers as doctors, dentists and nurses are taught the art of lip augmentation.
If you're interested in becoming a model for lip filler treatment at Cosmetic Courses then register your interest here and someone will be in touch to discuss the details with you.
https://cosmeticcourses.co.uk/wp-content/uploads/2017/03/Lip-Fillers-and-its-myths-1.jpg
350
916
Melanie Recchia
https://cosmeticcourses.co.uk/wp-content/uploads/2021/02/cc_svG_logo.svg
Melanie Recchia
2017-03-23 16:44:02
2021-03-11 14:19:18
Lip Filler and it's Myths