As a Beauty Therapist, you've put in the hard work to build up a loyal client base.
But while you can help your clients with a lot of their aesthetic issues, there are probably some needs you can't meet. 
Current beauty therapy training only qualifies you to treat some complaints you're likely to encounter in your clients. And for an ambitious Beauty Therapist like you, that can be frustrating.
Not only does it mean you can't provide a truly comprehensive service to your clients, you're also missing out on the revenue from treatments they're seeking elsewhere!
So what can you do?
You already have a good understanding of aesthetics and the "science of beauty". And you already have the client base. 
All you need to do is broaden your repertoire. Extend your beauty salon treatments to include some popular non-surgical aesthetic treatments.
You want to become a 'one-stop beauty shop', so there's every chance your clients won't need to go anywhere else! And there are a few Beauty Therapist Training Courses that will help you do just that.
Which Beauty Therapist Training Courses are available?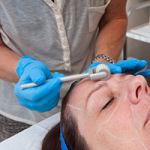 There are two obvious choices when it comes to adding new treatments to your beauty repertoire. Chemical skin peels and Dermaroller micro-needling.
With proper training you'll be able to safely offer these advanced aesthetic techniques to your clients – either individually or as part of a beauty package.
Add them to your treatment menu and watch your profits skyrocket.
Both Dermaroller and skin peel treatments are extremely cost-effective to perform. Once you've trained, the consumables used for each treatment are very inexpensive.
Genuine Dermaroller treatments use no product on the skin, so the only expense is the disposable roller. Treatments are usually charged at around £225, and a course of at least 3 is usually recommended for best results. 
Skin peels have a broad scope, treating specific skin complaints as well as improving the general condition of the skin, which makes them popular with all ages. Prices vary depending on the product used, but are typically from £75-£150 per treatment – and again, a course of at least 3 is usually recommended to get optimum results.
Training in both means you can provide your customers with proper, comprehensive treatment plans, leading to a significant increase in both your income and your client satisfaction levels.
Our next available Beauty Therapist Training Courses
Would you like to get some more treatments under your belt? We're always adding new dates for Beauty Therapist Training Courses throughout the year, but these are our next available dates:
Chemical Peel training – Buckinghamshire – BOOK NOW
Dermaroller training – Buckinghamshire – BOOK NOW
Both of these upcoming courses will be held at our Paddocks Clinic training centre in Princes Risborough, Bucks.
Find out more about our Beauty Therapist Training Courses
Cosmetic Courses is led by acclaimed Consultant Plastic Surgeon Adrian Richards. We offer a wide range of accredited training courses for people looking to enter or improve their credentials in the aesthetic industry. For more information on any of our Beauty Therapist Training Courses, please call the team on 01844 318317 or email us at [email protected].
0
0
Melanie Recchia
https://cosmeticcourses.co.uk/wp-content/uploads/2021/02/cc_svG_logo.svg
Melanie Recchia
2015-12-11 16:55:21
2021-03-11 14:57:24
Beauty Therapist Training Courses – is it time you moved from beautician to aesthetician?