So you've decided you want to set up in aesthetics, and are busy researching Botox courses. Great choice. But if you really want to be successful in the aesthetics industry, your training is just the start.
To thrive as a Botox practitioner, it's important to know how your patients and prospective patients feel about treatment. Get inside their minds and understand not only their hopes, but also their concerns – and any barriers that may be holding them back. 
After all, if you know what's stopping them, you'll know how to reassure them. 
There are plenty of misconceptions about Botox, and being able to address them with your patients is vital. Unfortunately, this isn't usually covered during most Botox courses.
So to give you something to think about, here are 4 of the most persistent concerns, along with some guidelines for what to say to your patients.
> Botox is unsafe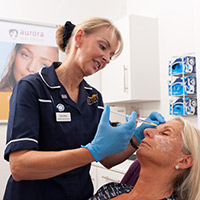 Despite its popularity and widespread use, some people are still unconvinced about the safety of Botox. They believe that, because it's a toxin, it has the potential to be harmful when injected.  
But as practitioners, we know that Botulinum toxin is extremely safe when administered in the right dose by a qualified medical professional. So stress that to your patients.
You can also tell them that Botox has been safely used for many years in a medical context, to treat migraines, bladder problems, etc, which should help allay their fears.
> I'll look frozen and odd
Ah, the dreaded 'frozen face'. It's a very real fear for some people that their face will be rendered blank and immobile by Botox. They might have seen unflattering pictures of celebrities and be terrified of having the same outcome.
So for those patients, let them know you'll take a conservative approach. You can always top up at a later date if needed. Stress that you believe in achieving the most natural results rather than the most dramatic – and if that means erring on the side of caution, so be it.
> Botox is indulgent/only for vain/rich/famous people

 
Like most aesthetic pursuits, the early adopters for Botox were celebrities. But it's now grown in popularity so much that it's now the world's favourite non-surgical treatment.
And as it's grown in popularity it's become more affordable and accessible. So the chances are that everyone knows someone, or knows of someone, who's had it.
So let your patients know that far from being something famous/rich/vain people do, it's something that at least some of their neighbours, friends and colleagues are likely to have done!
> Botox is scary and painful

 
Needles and injections can strike terror into the hardest of hearts. And here's where your powers of reassurance need to be at their best. 
Let them know exactly what they'll feel. A slight pinching sensation that will be over in a matter of seconds. Tell them people often compare it to a mosquito bite, so if they've ever had one of those, they'll know they can deal with it.
Stressing that the treatment doesn't require anaesthetic should also help reassure them that any discomfort is likely to be minimal. 
Find out more about our Botox courses
Cosmetic Courses are the UK's most established Botox training provider. We offer scheduled and bespoke Botox courses to medical professionals at fully equipped training centres throughout the UK. For information about our Botox courses, or to book, call us on 01844 318317 or email [email protected].
0
0
Melanie Recchia
https://cosmeticcourses.co.uk/wp-content/uploads/2021/02/cc_svG_logo.svg
Melanie Recchia
2015-10-09 12:34:48
2021-03-11 15:09:30
Beyond Botox courses – what you need to learn about patients