Lip augmentation is back in the news, thanks to youngest Kardashian sister Kylie Jenner…
The teenage star of Keeping Up With the Kardashians has finally admitted what most of us knew already – her newly plump pout is thanks to temporary lip fillers, not lip liner after all.
The revelation didn't go unnoticed by the British public. In the 24 hours after she confessed, UK clinics saw a huge spike in enquiries for the procedure, with some reporting a staggering 70% increase.
While people clamouring for treatment creates huge opportunities for us as aesthetic practitioners, it can also raise some interesting dilemmas.
Whenever there is massive demand for a treatment, it's vital that we keep our wits about us.
As practitioners, we're constantly engaged in a kind of balancing act. On the one hand, we want to give our patients the results they're asking for. But on the other, we have to consider the results that would be best for them.
Fortunately, most of the time, these tend to be in alignment. But problems can arise when they are not. And lip augmentation is a classic example of a treatment where careful judgement is so vital. 
Age-appropriate lip augmentation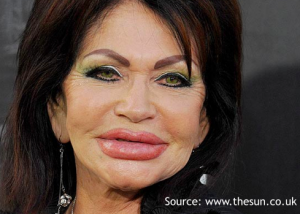 Full lips are attractive because they convey youth. So replacing lost volume (or adding it for younger patients with naturally thin lips) is a reliable way to give a face more youthful vigour. 
But the goal, as with any cosmetic enhancement, is to stay within the limits of what's appropriate – particularly for a patient's age.
Our aim with lip augmentation should always be to leave our patients with full, attractive but – crucially – age-appropriate lips.
No matter how our patients clamour for lips like Kylie Jenner, Angelina Jolie et al, we have to keep our professional integrity and be willing to say no if it won't be right for them. 
That's why learning the proper technique is only part of the equation when it comes to training in lip augmentation.
Bespoke lip augmentation training
Successful lip augmentation is nuanced, takes the patient's facial features and their age into account, and has clearly defined outcomes from the beginning.
With this in mind, at Cosmetic Courses we've developed a bespoke training course completely devoted to lips. The intensive four-hour session focuses on age-appropriate attractiveness, covering both advanced technique and desired outcomes, based on the 'Aurora Lip Analysis' pioneered by our Clinical Director Adrian Richards.
During the session, you'll learn the specific Aurora cannula technique developed by Adrian Richards, which uses a blunt cannula and only one entry point. This innovation makes it less painful for patients, with a far quicker recovery time owing to the reduced trauma and bruising.
If you have some experience of lip fillers and would like to advance your skills and become a more authoritative practitioner in this rapidly growing area of aesthetic medicine, our bespoke lip course will give you all the extra confidence you need.
For more information on our bespoke lip augmentation course, or to book a place, please contact the Cosmetic Courses team on 01844 318317 or email [email protected].
0
0
Melanie Recchia
https://cosmeticcourses.co.uk/wp-content/uploads/2021/02/cc_svG_logo.svg
Melanie Recchia
2015-05-15 12:22:27
2021-03-11 15:31:29
Lip augmentation – professional integrity comes first