Ruth Atkins RGN INP
Aesthetic Nurse Specialist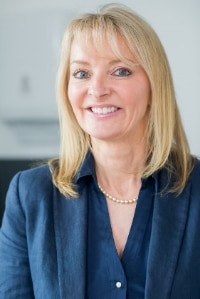 Joined the aesthetic industry: 2000Joined Cosmetic Courses expert faculty: 2002
Ruth Atkins started her nursing career at Leeds General Infirmary in 1981, specialising in surgery, burns and plastic surgery. She went on to develop a career in Aviation Medicine, working as a trainer on private and commercial aviation courses. In this capacity, she has taught defibrillation, BLS and first aid both privately and for the European Resuscitation Council for over 20 years.
An interest in aesthetics led her to become an Aesthetic Nurse Practitioner, specialising in Botox and Vistabel treatments, dermal fillers, Genuine Dermaroller, microdermabrasion, chemical skin peels and skin assessment.
Ruth is a full member of the British Association of Cosmetic Nurses (BACN) and the Nursing and Midwifery Council (NMC). Ruth works as a trainer from our Buckinghamshire.
Ruth became the proud owner of a Blue Peter badge, at 13 years old. This was awarded to her for ringing her first 3-hour peal at St Giles Church, Pontefract.