In this blog we answer one of your most frequently asked questions, anti-ageing for men.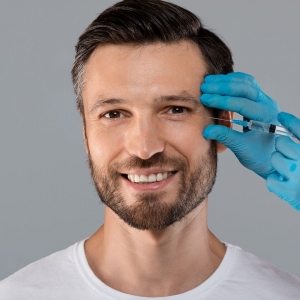 Question :
Dear Cosmetic Courses,
Please can you let me know the recommended doses for administering Botox to men? 
Answer :
Thank you for your email. We generally recommend you add 40% more Botox at each injecting site for men.
This will depend on how heavy you feel their muscles are. If you feel they have more than average muscle bulk, adjust this to 50% and if they are finer featured add 30%.
Unlimited support
Alongside our aesthetic training we also offer unlimited support to our delegates. Our team are always on hand to answer any questions or concerns you may have in regards to aesthetic medicine and your aesthetic business.
Anti-Ageing for men courses
We offer a wide variety of aesthetic medicine courses which cover anti-ageing for men. All of these courses contain theoretical sessions with our expert faculty and treatment practice on live models provided by us. We use a wide mix of models on our courses so you can understand how to treat each patient individually. You can view all of our practical courses here in aesthetic medicine. We also offer an online learning academy which demonstrates popular treatments, you can find out more here. 
0
0
Mr Adrian Richards
https://cosmeticcourses.co.uk/wp-content/uploads/2021/02/cc_svG_logo.svg
Mr Adrian Richards
2011-06-24 08:56:37
2022-05-04 13:04:31
Anti-Ageing for Men: What Doses?