Are you interested in high-quality skin treatments that don't break the bank? Read on for more about joining our pool of models.
At Cosmetic Courses, we teach Doctors, Dentists and Nurses to perform safe Botox®, facial filler and other aesthetic skin treatments. For the practical part of our training courses, we need a steady supply of great, reliable models looking to undergo treatment. And that's where YOU come in…
What do models do?
Our training is held at centres around the country, with courses happening every month. Models come along to sessions and receive high-quality skin treatments from course delegates under close supervision by our expert trainers – at a heavily discounted price.
Sounds good. Is it safe?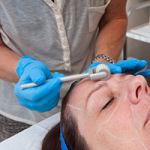 Absolutely. All courses are held in fully functioning clinics, and taught by medically qualified aesthetic trainers. The course attendees are qualified medical professionals who are already experienced injectors. And treatments are carried out in a controlled environment under extremely close supervision.
So you can be completely confident in the safety of your treatment.
Which skin treatments are available?
Botox® treatment, facial fillers (including lip and tear trough fillers), non-surgical Rhinoplasty, Dermaroller, chemical peels, PRP Therapy ('Vampire Facelift'), 8 point facelift and more.
We regularly add new courses to our programme, so there may be new treatments available in future.
What discount can I expect?
It varies, but typically, you can expect to pay only around half the usual price for any treatment.
Where are your training centres?
We've six dedicated training centres across the country, in Leeds, Birmingham, Buckinghamshire, London, Kent and Essex. Click to see more information and the full addresses of our training locations.
Can I hear from one of your models?
We knew you'd ask that! Click on the video below to hear from Carmel, one of our regular models.
I'm in! How do I become a model for aesthetic treatments?
It's easy. First, you might want to read more about the benefits of modelling for skin treatments. Then all you need to do is fill out our quick Model Registration Form.
Let us know the treatments you're interested in and where you can travel to. Then if you're a suitable candidate, next time we have an appropriate course, we'll be in touch to invite you along.
Courses run throughout the year so there should always be a course date and time that suits.
There's no limit to how many times you can model for us – as long as you're reliable. We'll be happy to contact you whenever we need you.
So here's to never paying full price for your skin treatments again!
For more information about modelling for Cosmetic Courses, please call us on 01844 318767 or email [email protected].
0
0
Melanie Recchia
https://cosmeticcourses.co.uk/wp-content/uploads/2021/02/cc_svG_logo.svg
Melanie Recchia
2015-09-04 14:13:42
2021-03-11 15:28:48
Want to spend less on skin treatments? Model for us