Recently at Cosmetic Courses we have seen an influx of Platelet Rich Plasma training course enquiries. As with any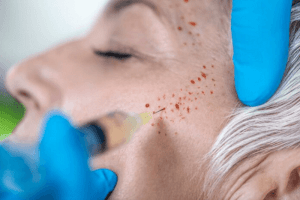 course, it's important to do your research before booking on especially when it comes to the products the course is using. The world of PRP is vast and should not be seen as a one size fits all treatment. Multiple courses are needed to cover the different areas such as hair, face, and body along with understanding different client needs and managing expectations.
There are also many PRP machines on the marketing, all using different centrifuge methods. In this blog we are going to discuss what to look for when choosing your Platelet Rich Plasma Training Course and the machines to perform your treatments.
What qualifications do I need to do PRP?
At Cosmetic Courses we only train doctors, dentists, and nurses with valid medical registration in our aesthetic courses including Platelet Rich Plasma training. Due to the nature of the treatment, our delegates need to have existing experience in taking blood and managing complications caused by trauma to the body.
Our courses are also taught by our expert faculty with extensive knowledge within their own medical fields, applying it to their aesthetic experience to lead example in safe and ethical practices within aesthetics.
What is PRP training?
Platelet Rich Plasma training is learning the fundamentals and practical elements of this sought-after treatment. PRP involves taking the patients own blood and spinning it within a centrifuge system to separate the good plasma. It is then injected back into the skin causing a slight trauma which urges the bodies own collagen supply to come forward and aid repair, working with the good plasma.
Developed over 40 years ago and used by dental and maxillofacial surgeons for its wound healing abilities, it made the move into aesthetics helping with skin rejuvenation, scarring, pigmentation, hair loss and ageing.
Who can administer PRP treatments?
Due to insurance policies PRP treatments can be administered by medically registered professionals with sufficient training behind them.
Choosing a PRP system
The original PRP machines used a buffy coat system, the same you would see within a laboratory to process blood samples for testing. With continued research and development, it became clear that using this system could cause contamination to PRP with red blood cells.
It later became apparent that by using certain types of tube when producing the PRP could result in some of the good plasma being left behind in the tubes when administering back into the skin, another area needed to be researched and developed further.
Centrifuge speed were monitored next, were they spinning fast enough to evenly split the samples, or were we not seeing the right results from the centrifuge and did it need improving…
Questions to ask when choosing your Platelet Rich Plasma training course:
What machines are you going to be trained in, do they have the relevant safety data and CE mark verification?
By using this machine how many of the platelets from the blood are delivered?
Can you vary the concentration of the machine?
Does the machine eliminate any red cell contamination?
Is the machine easy to use?
What areas will you be covering on your course?
Will there be practical experience on live models?
What support is available after and before the courses?
Cellenis PRP Centrifuge Systems
We are pleased to partner with Cellenis PRP for our Platelet Rich Plasma training courses, not only will you be taught in their machines and process but the PRP kits are available to purchase from us after your training.
Benefits of Cellenis PRP Centrifuge:
Advanced gel separation technology producing optimum prp formula
Significant preservation of platelet functionality
Platelets and Monocytes rest directly above the gel barrier. They are then re-suspended back into the plasma during the Cellenis preparation process.
Inflammatory red blood cells remain trapped beneath the gel barrier.
Neutrophils, cells that are harmful to the reparative environment are sequestered beneath the gel barrier.
Why choose Cosmetic Courses for your Platelet Rich Plasma Training Course
The UK's largest aesthetic training provider, led by Plastic Surgeon Mr Adrian Richards
Theory led by our expert trainers covering complications through to marketing
Courses held in fully functioning clinic environments across 6 locations
Unlimited support whether it be clinical or business related
Practical on live patients provided by us
CPD certificate of attendance after successful completion
Find out more about our Platelet Rich Plasma Training Course here or contact our team on 01844 390110 / [email protected] to find out more.
https://cosmeticcourses.co.uk/wp-content/uploads/2021/08/What-to-look-for-in-a-Platelet-Rich-Plasma-training-course.jpg
200
600
Mr Adrian Richards
https://cosmeticcourses.co.uk/wp-content/uploads/2021/02/cc_svG_logo.svg
Mr Adrian Richards
2021-08-25 15:34:41
2021-08-25 15:34:41
What to look for in a Platelet Rich Plasma training course